Best Social Popup WordPress Plugins
This is my list of Best Social Popup WordPress Plugins
WordPress Popup Plugins can be extremely useful for building your social audience, growing your email list or just simply gaining more attention to what ever you like. There are several plugins available out there both free and paid. I have used a fair share of them and thought what a great way to share with you my top 3 both free and paid in the category of Social Sharing. Make sure you subscribe to WPmods.com because I will be sharing my top 3 Popup Plugins in the categories of List Building and Custom Content very soon. Let's dive right in.
---
Social Sharing (Paid):
1. Facebook Traffic Pop $8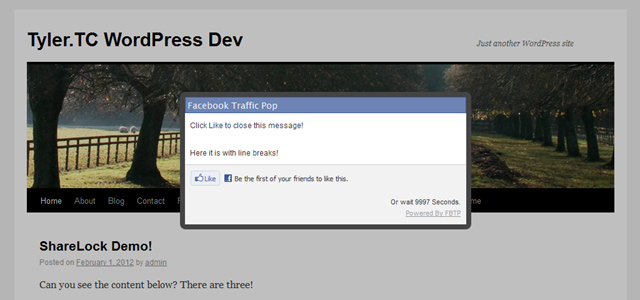 Tap into Facebook's 600 million plus users now with the hottest Facebook traffic plugin. Facebook traffic pop is a new breed of 'popups' that will allow you to have your users like your pages, instead of trying to get them to click ads. More likes = more exposure = more traffic = more money!
MORE INFO / DEMO – by CodeCanyon (premium plugin)
---
2. Social Traffic Pop $18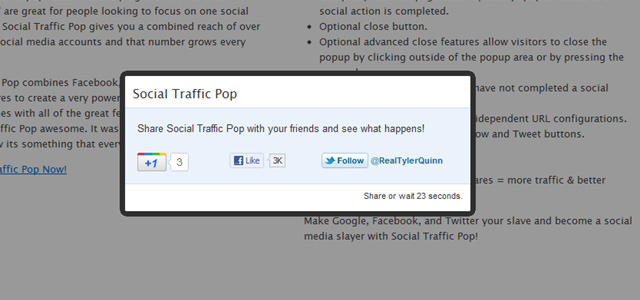 Social Traffic Pop is finally here. Requested by tons of other Traffic Pop buyers, Social Traffic Pop combines 3 of the most powerful social media tools to make one of the best social media marketing tools ever. Social Traffic Pop builds on everything that made the original Facebook Traffic Pop such a hit and takes it to the next level. Make Google, Facebook, and Twitter your slave and become a social media slayer over night!
MORE INFO / DEMO – by CodeCanyon (premium plugin)
---
3. Twitter Traffic Pop $6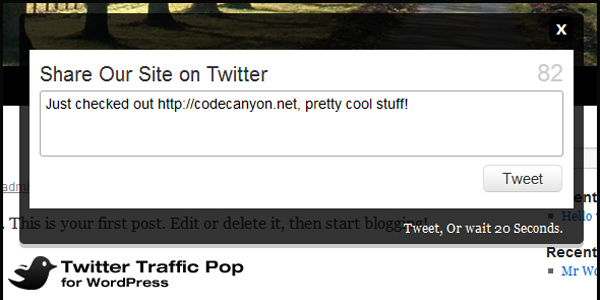 Instead of forcing your visitors to see popups with ads, why not ask them to Tweet instead! Tap into Twitter's 100 million plus users with this hot new popup style marketing tactic. Make Twitter your slave with one line of code! More tweets = more exposure = more traffic = more money! Twitter Traffic Pop Featutres
Fully customizable CSS included, looks just like a twitter.com pop-up
Optional close button
LOCKS out page functionality behind the popup!
Cookies remember users who already 'Tweeted' about your site
Works on all sites and big and small
Viral, Twitter styled pop-up is proven to induce more tweet traffic.
Make Twitter your slave with one line of code!
Great for PREMIUM CONTENT areas or even have your uses tweet ads for you!
Allows you to pre-populate the tweet input box!
MORE INFO / DEMO – by CodeCanyon (premium plugin)
---
Social Sharing (FREE):
1. Facebook Page Promoter Lightbox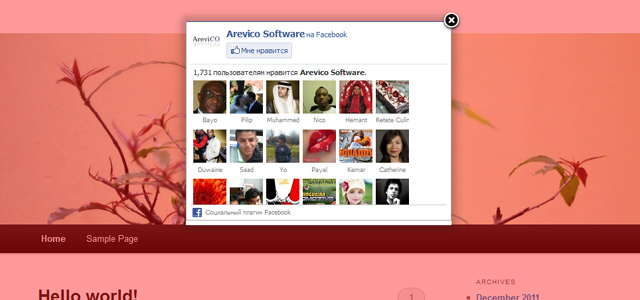 All your visitors should know about your facebook page and tell their friends. With this plugin you can display a pre-configured Facebook Page-Like Box inside a lightbox. Features:
Display the facebook lightbox onload with or without a delay
Limit the lightbox to once every x days per individual visitors
Promote your own facebook fanpage
Facebook page is needed
No api key needed (works with iframe, premium version uses xfbml and requires api key)
FULL DETAILS AND DOWNLOAD – It's FREE!
---
2. Twitter Like Box Lightbox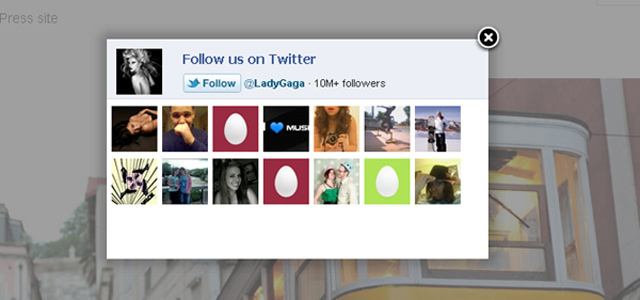 Twitter is a great way to grow your websites traffic. With this plugin you can display an lightbox with a twitter likebox. The result? More twitter followers. Features
Display the lighthox on pages,on post and/or on your homepage
Set a delay for the lightbox to show
Grow you twitter follower base
More exposure by the friends of your new followers
Ability to show the lightbox once every x days (per visitor)
FULL DETAILS AND DOWNLOAD – It's FREE!
---
3. PopUP Shortlink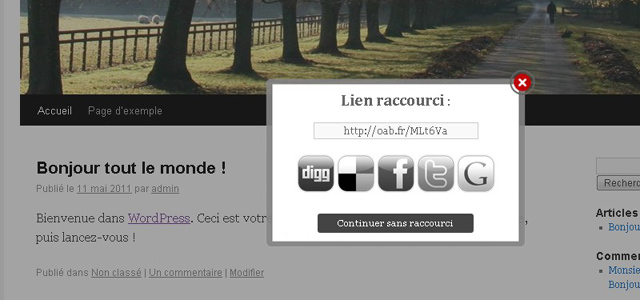 PopUP Shortlink to display a small window displaying the URL with the API Bit.ly, the API TinyURL.com or the API 0Ab.fr when the visitor clicks on a link in an article. Visitor can continue his visit to the site if he clicks on close or continue..
FULL DETAILS AND DOWNLOAD – It's FREE!
---
ContentsAlyeska ResponsiveModernizeSideways Portfolio WebsiteWhite LabelSuper SkeletonReactionLocusAngularAwarePropulsion A responsive design means a layout that responds well to different screen sizes. Such as iPad, tablets, Smart Phones and Desktop.  Responsive WordPress Themes
ContentsThe Features You'll LoveTakes seconds, costs nadaDozens of gorgeous themesIntegrated stats systemA great tool for writingLet's get those 15 minutesThey kill spam deadGreat help if you need itLike a rockYou're in
This is a recommended ping list for a WordPress blog. The information is gathered from personal experience and various sources on the web. Every time you post these services will
WordPress based websites are faster to setup, easier to maintain, easier to market and extend. About 2 years ago I started messing around with WordPress and have been deploying WordPress
Bloggers love WordPress! If you're ready to start using this free blogging software, WordPress For Dummies, 2nd Edition is just what you and your blog need to make a splash.
If you are planning to create an application, or any other website you should really consider having a coming soon page. On that spash page, you should have an email