How to find the URL of a twitter message?
It may sound very trivial but noobs to twitter find it hard to get the URL of a particular tweet posted on twitter. Here is how you can locate the URL step-by-step: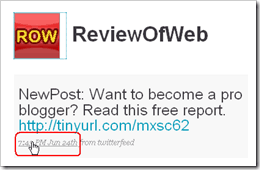 1. Go to the tweet you wish to get the URL for.
2. If you are on Firefox, right click and "Copy Link Location". If you are on IE, right click and copy shortcut.
3. Paste it where ever you like. Enjoy!
In case you are still wondering what is twitter, here is a great video that will explain you the concept in plain English
This is definitely a good thing for all involved.  It give Twitter more legitimacy in the business world.  It gives LinkedIn much more activity then it currently has.  And most
ContentsTurning Twitter off and on: device notificationsFun Stuff: friends, favorites, and stats!Noteworthy Facts Did you know: you can perform certain actions, like following or marking a friend's update as a
If you're not using Twitter yet, you may feel as if you've missed out. Twitter has not only tipped the tuna, but by some estimations, it has already jumped the
Compliments of @chrisbennett from www.97thfloor.com I bring to you the best overview of Twitter… Twitter, the Most Important Website Since Google? I will be the first to admit while it
Link your Twitter account to your Fan Page. This means that every time you post something to your Fan page wall it will automatically tweet it.
Hello everyone, My name is Carlos Andrade and the site owner is a great friend of mine, so we'll talk about securing your Twitter account – because of all the