How to find the URL of a twitter message?
It may sound very trivial but noobs to twitter find it hard to get the URL of a particular tweet posted on twitter. Here is how you can locate the URL step-by-step: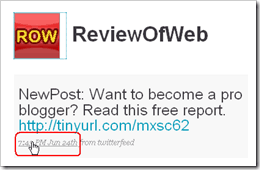 1. Go to the tweet you wish to get the URL for.
2. If you are on Firefox, right click and "Copy Link Location". If you are on IE, right click and copy shortcut.
3. Paste it where ever you like. Enjoy!
In case you are still wondering what is twitter, here is a great video that will explain you the concept in plain English
ContentsDirectIndirectInternalInbound SignalingConclusion Gartner released a report today that highlights the different ways that companies are adopting Twitter for business use. Although Twitter was originally intended for communication among individuals, a
Last month a social media analytics provider named Sysomos released a comprehensive report on Twitter usage. The problem with most analysis on Twitter, though, is that it is limited by
Contents1. Choose a client software2. Twitter Shortcuts3. How to Backup Twitter4. Schedule Future Dated Tweets & AutoresponderYou Won't Break It… 1. Choose a client software Most individuals install a client software
If you're not using Twitter yet, you may feel as if you've missed out. Twitter has not only tipped the tuna, but by some estimations, it has already jumped the
Link your Twitter account to your Fan Page. This means that every time you post something to your Fan page wall it will automatically tweet it.
Hello everyone, My name is Carlos Andrade and the site owner is a great friend of mine, so we'll talk about securing your Twitter account – because of all the